Block your Dates
Royale Exotica
Nestled in the heart of the vibrant and beautiful Goa, lies Royale Exotica, located near Calangute beach, North Goa. With a panoramic view of the sea and a stone's throw away from the beach, Royale Exotica is the most luxurious  beach hotel.
To make your stay truly memorable, our rooms and suites at Royale Exotica offer a stunning view of the ocean. It has various features accompanied with contemporary interiors, premium linen,well- furnished rooms, and modern décor. The hotels amenities offer all the luxuries of a comfortable stay by the beach.
Royale Exotica houses Goa's best – Royale Sky Lounge, Royale Bistro and Royale Cafe. We offer a wide range of cuisines from Indian, Asian to Continental.
If you would like to head out and view the highlights of Goa, our travel desk can help you plan a day of sightseeing and fun.
Treat yourself
The Royale Sky Lounge is a space created for people who enjoy partying. Relax and enjoy your drinks at our vibrant bar pulsating with music. The cool ambience is perfect for a night of drinks, good food and endless moments of partying.
Royale Sky Lounge offers a wide range of cuisines from Indian, Asian to Continental, making it a popular place in Goa. On one hand, you can enjoy quality time with your family, while on the other hand, an intimate dinner with friends by the terrace restaurant.
We serve some of the most phenomenal multi-cuisine dishes. Our signature delicacies being, our seafood! The lounge can accommodate up to 80 guests and is a fun place to hang out with friends and family.
Working Hours :
7:30 p.m. to 10:30 p.m.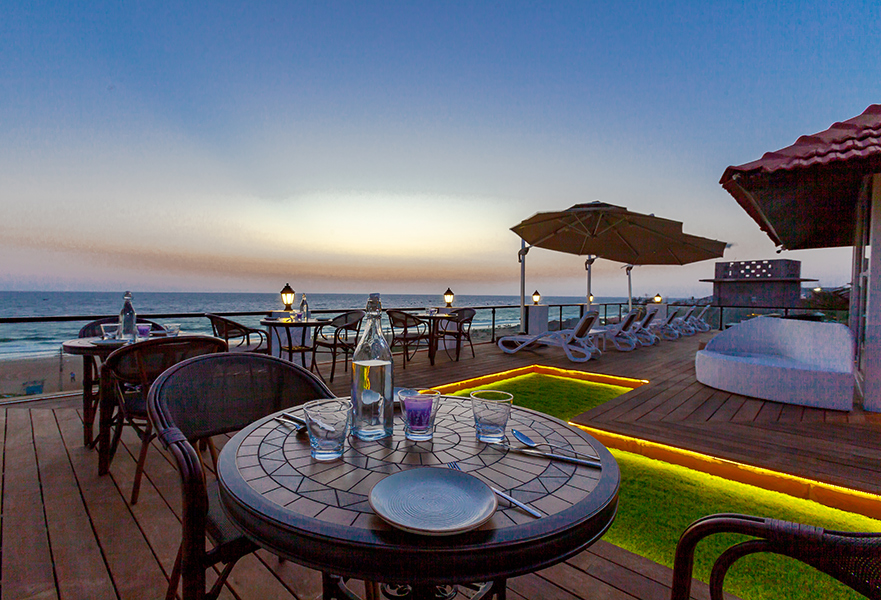 Treat yourself
Popular in North Goa – Royale Sky Lounge offers a wide range of cuisine from Indian, Asian to Continental food. The terrace restaurant offers a private gazebo for quality family time or an intimate dinner with friends. Royale Sky Lounge provides a musical ambiance and also screens Sports on its projector set up.
Royale Bistro is a multi-cuisine restaurant at the hotel, which offers a delightful dining experience for our guests. The rustic signature interiors along with soft music playing in the background, creates an aura that one can never forget.
We serve Indian, Continental, Chinese, and other fine delicacies for a memorable meal in Goa. Enjoy our different, colorful and delicious cocktails at the same time. We offer a buffet for large groups of guests as well. We also provide a musical ambience and screen sports on our projector set up.
It has a cafe with outdoor seating which is accompanied with a candle light dinner during the evening time.
Working Hours :
8:00 a.m. to 10.30 p.m.
GALLERY
Reviews
We spend four night as a family holiday and I must say everything was excellent. The location of the hotel is best on Calangute beach.
The front desk has been incredibly nice, helpful and also helpful for advice on how we can visit the Goa city. Hotel is very clean and the facility's staff responses quickly as per call. Balconies with chairs ensure you don't have to go out. Lovely hotel, lovely stay and really wonderful and helpful staff.
The breakfast was complimentary and better than what we expected. I will certainly come back again….!!!
Thank You Royal Exotica team for a wonderful holiday…
Date of Stay: May 2019
Mahendra Singh – Tripadvisor
The hotel has newly started near to Calangute Beach. The Property is maintained well, clean & neat. Staff is very good & service/co-operation is too good. Few rooms are having a view of Calangute Beach, mine was one of them. Only thing is the road to reach up to Hotel is narrow for a four-wheeler.
Touriest123 — TripAdvisor
Our Location
0.8km
FROM NEAREST ATTRACTION
---
2.4km
FROM CITY CENTER
---
40km
FROM NEAREST AIRPORT
---
You can get in touch with us to arrange an airport pick up or drop from our property!